This is a complete guide to hydraulic crimping machines for users and potential buyers.
In this new article, you will know below knowledge, you can click the title to jump to the related chapter:
Tip 1 #: What is hydraulic hose crimping machines?
Hydraulic hose crimping machine is a kind of equipment for crimping and swaging, it is mainly used to fabricate the hydraulic hose assembly, so it is also known as " hose crimping machine" or " hydraulic hose crimper".
In general, the working principle of the crimping machines is to convert the electric power, fluid power to the crimping force, (some crimpers designed with air-operated or hand operated)
the force enough to change the shape of the steel tube, can form a solid bond between the metal and workpiece.
There are various crimping machines to offer multiple services, most of them are used for repairing the hydraulic hose and industrial hoses, some workshops use a crimper to swage metal pipe. You may don't know, some crimping machines can support to press the air suspension and wire rope.
In daily life, you will see the crimper machines in a hydraulic hose assembly workshop or in a hydraulic repair mobile service van, even at a construction site.
The service location and crimping workpiece lead to the crimper also have categories, such as manual hose crimping machine, portable crimping machine, series production hose crimping machine.
Below are some styles we often see
You may be dazzled by these picturers of crimpers, don't worry, even the appearance and design of the crimping machines from different brands are not the same, but the function and working principle are similar.

The following we will teach you how to use them.
Tip 2 #: How to use the hose crimping machines?
In this chapter, we will learn the correct method to operate some common hose crimping machines. For more visuals to know the process, we use some videos to display.
If you are confused with how the hydraulic hose crimper works, or you are a novice to operate a crimping machine, the below content will help you a lot.
We should have a basic concept about the process of fabricating a hydraulic hose assembly. Let's have a quick overview:
Note, whenever you begin the project, you'd better ensure you have worn the protective gloves and safety goggles.
We list 3 videos of frequently-used machines, instead of text description, the video will be more efficient to show us how to use the hydraulic crimping machine.
These 3 types of crimping machines from different brands, the videos present 3 different types of operations, I believe you must benefit from at least one of them.
The first type, Hydrocrimp electric hydraulic hose crimper model, suitable for workshop, the most common use style.
The second type, manual operated hose crimper, the model in the video is finnpower P16HP.(Get the similar model in half price)
Third type, parker crimper, it is a popular style in US, this video shows a whole process of crimping hoses, the operation method is suitable for same style crimpers.
Which one is your favorite style?
If you know enough about the crimper machine, you are planning to buy a suitable hose crimper, the next chapter must be useful for your market survey.
Tip 3 #: How to buy a cheap and durable crimping hose machine?
Everyone hopes to avoid making a wrong decision when the merchandise costs a lot of money, as you know, the price of a hose crimping machine is not cheap.
When you purchase a crimping machine from a famous brand, the cost of a 2 inch hose crimper is not lower than USD 7500.00, the price enough to buy 7 pieces of the lastest IPHONE 11 PRO.
However, you can use under half of the price, buy the almost same equipment in a legal way. In this chapter, we will guide you on how to buy a durable hydraulic crimper machine at cheap price, what's more, you will know how to distinguish if the machine is in good quality, avoid to just go for a cheaper price but get a terrible product. Let's begin!
If you have the experience of importing stuff, you should know the cost of these goods is far below your local price. So, why not try to import a hose crimper from abroad.
If you don't know how to import goods from oversea, you can try to learn it. You just need to send an inquiry to the seller, then choose a way of transportation, if you make the purchase order, after paying, just wait for your goods to arrive(maybe 30 days), that's a simple process. Tip#: Find a cargo agent that will help you a lot with the whole process.
In other words, there are suppliers that can produce a good quality hydraulic machine in these places, but you don't know how to find them and distinguish their quality.
The most direct way is to use google, but please remember, when you find the hydraulic crimping machine for sale, don't buy the cheapest one, especially it has a price you can't imagine meanwhile the appearance is inferior.
Many buyers think the quality from Asia almost same, so they take a long time to compare the price, but consider few about the quality. Please trust me, if you use a very low price to get a crimping machine,it will spend you more time and energy to maintain, besides, the working life also not satisfactory.
Hydraulic crimping machine is equipment, not the raw material. I mean the suppliers can reduce the cost from many aspects when they produce and assemble a hydraulic hose crimper, some of these aspects affect the quality directly.
Low prices mean low costs. A machine is made of lots of materials and parts, for controlling the costs, the producer can use low-quality parts to get the competitive edge of the sale price. But the performance of these parts and material is disappointing.
Sometime, you may find two similar looking hose crimper machines, but the prices are far away, it is very interesting. Here are some tips, when you ready to buy hose crimping machines, they must be useful.
Firstly, check the key parts. Hydraulic crimping machine includes a hydraulic system, so the magnetic valve, electrical circuit, oil seal, pump, oil line design, motor and other key parts are very important. You may don't understand these details, the supplier will also have the right to keep the confidentiality, they can use the cheap parts so that offer you a cheap price.
Even two equipment looks the same, but different key parts bring a totally different performance and price, that's why you get a cheaper but poor quality crimping machine. If most key parts of a hose crimper machine are from cheap unknown brands, how do you believe it will have a long time service life?
Secondly, know the production process and raw material. When you shopping online, although it is hard to figure out this point, the excellent supplier would like to show you their advanced production process and the better raw materials they use.
If a supplier uses the high grade lathe to produce the parts, even the lathe is expensive, but it can reduce the defective rate, increase the precision of hose crimping machines. The better material can ensure the hose crimper dies has sufficient rigidity, avoid to be out of shape. All these details are hidden costs but can be easily ignored by buyers. So why even two machines look the same, but the details and price will totally different.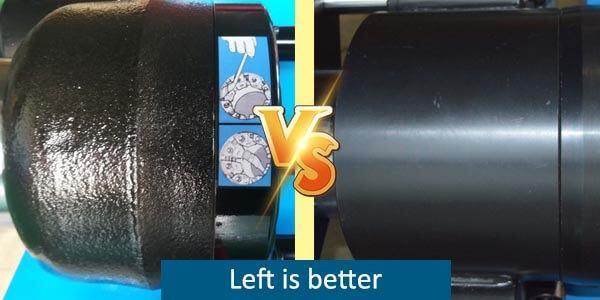 Thirdly, the accessories come with the machine. When you get a quotation, you should figure out how many accessories included in the price. Some suppliers may quote the crimping machine and accessories separately, so the price will be cheaper in the first quotation.
Fourthly, the appearance. Sometimes, details show the ability of a company.If the appearance and details look low grade, then don't try to look forward to good quality and performance
Even there are plenty of aspects that can make you know the quality of a crimping machine, I think the above four tips are more easily to achieve when you buy them online.
If you still think the price is most important, I still recommend you consider about the quality, don't choose the cheapest hose crimping machine. Because the cheapest machine may have a malfunction in a short time, you have to spend a lot of money to repair it. You should know, the time and energy you cost may be more expensive, and you have no idea about how many problems will happen in one year.
In conclusion, find a reliable aboard manufacturer, select the importing way, buy the cheap and durable hydraulic crimping machine.
In the next article, we will talk about the common breakdowns of the hose crimping machine, and teach you how to repair the crimping machines, there are many useful techniques you should know, don't miss it!If you love the content, send the email to henghua@hhgpipe.com , share your opinion to us!