Description
The P52 hose crimping machine is widely used in hose fitting assembly workshop or on-site repairs service, it may be the most classic equipment for pressing 1/4" to 2" 4 layers hydraulic hoses. The advanced technology make the crimper offer high accurate fabrication and rapid crimping cycles. There are 13 sets of standard dies, different sizes of dies makes the hose crimper become multipurpose machinery. In the meanwhile, P52 is equipped with a die rack and quick change tool, they offer lots of convenience to the operators.
P52 FINN POWER HOSE CRIMPING MACHINE
Crimping Range (Inner Diameter):
6~51mm ( 1/4~2″ )
Free Dies:
12 Sets (14  16  20  22  26  30   38  46  51  54  64  69)
Accuracy:
0.01mm
Volume of oil tank:
2.5L / 5L / 10L (Optional)
System Pressure:
26MPa / 31.5MPa(Optional)
Motor Power (as your requirements):
3kW
Voltage (as your requirements):
220V/240V/380V/415V (Optional)
Buckling Pressure:
640T
Efficiency:
250pcs/h
Maximum Open Diameter:
114mm
The max open tolerance:
± 30mm
Hydraulic oil:
46#
Net Weight:
350KG
Gross Weight:
365KG
Package Dimension:
700*900*1400 mm
quickly change:
including
Features:
1) Crimps up to 2 inch 4 layers hydraulic hoses and 3 inch industrial hose
2)Quick change dies tool
3)Emergency stop to ensure the safe
4)Quick crimping and retracted process
5)High quality material and famous brands parts
6)Precision formed effect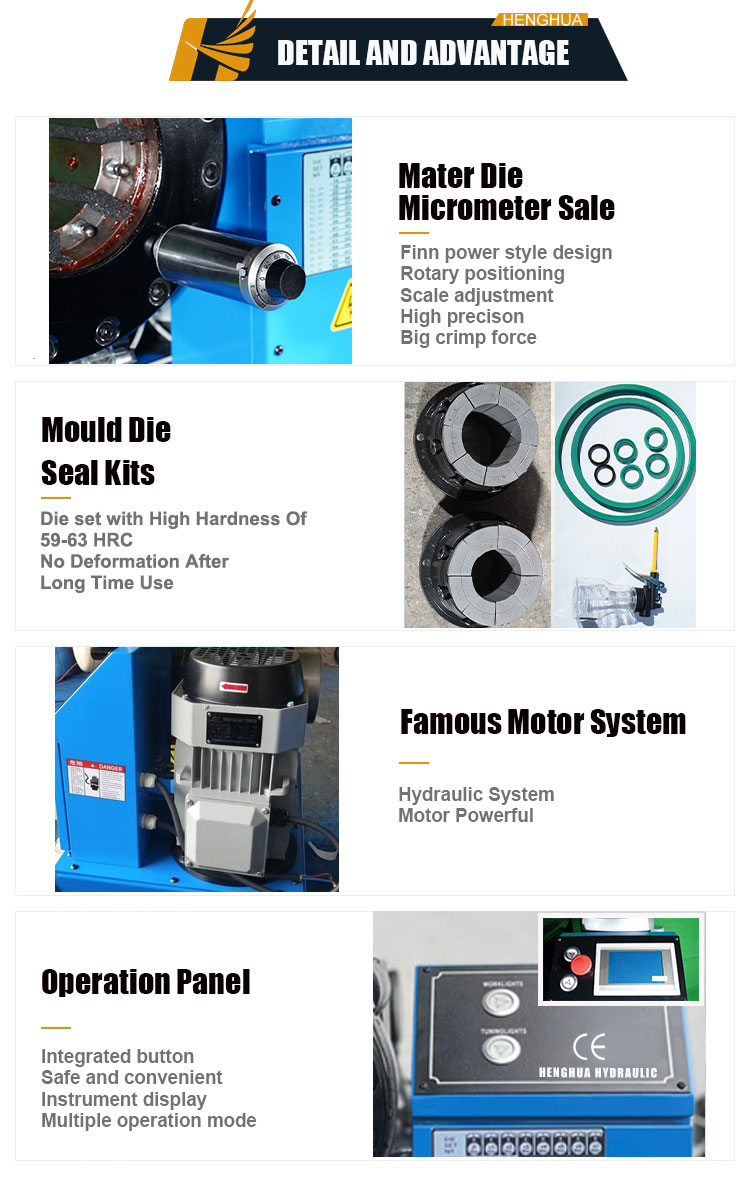 Machine Head
Attribute: Forge Steel
Original: Germany Technology
Front cover, cylinder and piston use Chrome40, forging integrity, increase its fatigue resistance. Surface hardness is HRC26-30°, hardness of inside layer is HRC59-63°, Eht 2mm.
Dies & Mold Base
Attribute: Strong Magnetic Connection
Original: HENGHUA(Patented)
Use Cr12 standard die steel which is a classical alloy tool steel, domestic implementation standard is GB/T 1299-2000. Dies and die base is connected by cutting-the-edge technology of strong magnetic connection, for which our company holds the patent
Electromagnetic Valve
Attribute: 39.852N Pushing Force
Original: Germany SED
It is used to adjust the hydraulic oil flow direction, quantity, speed etc. With high precision and good flexibility. The reversing valve spool is original Germany SED. Working with stability, no shaking, no blocking.
Control Panel
Attribute: CNC Operation Panel
Original: China(Mainland)
HHP52 crimping machine has equipped with computer numerical control operation panel which is more humanized than the ordinary ones. Computer numerical control operation system makes crimping more accurate, faster and simpler.